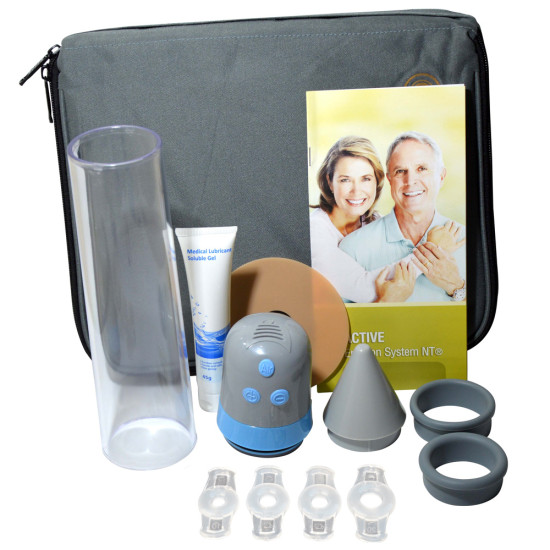 Active Erection System
Description
ActiveErection System Digital Vacuum Erection Device for Erectile DysfunctionNEW TECHNOLOGY! Electronically controlled for more power. Splash-proof, ..
Stock:

In Stock

EAN:

8438490119094


ActiveErection System Digital Vacuum Erection Device for Erectile Dysfunction


NEW TECHNOLOGY! Electronically controlled for more power. Splash-proof, easier to clean. Illuminated cylinder.The Active Erection System is a medical device for achieving an erection. The pump creates a vacuum in the cylinder around the penis. This draws blood into the shaft of the penis and causes it to swell and become erect. One of the constriction rings is then slid down over the shaft of the penis. This prevents blood from flowing back out of the penis when the cylinder is removed and also maintains the erection. The thus obtained erection allows for normal and satisfying sexual intercourse. The Active Erection System can be easily cleaned with warm water. All parts, including the constriction rings in four different sizes, can be reordered years later. All parts are kept for re-use in the bag supplied.Erection problems may be caused by diabetes mellitus, vascular diseases, prostatitis, prostate surgery, spinal injuries, multiple-sclerosis, hormonal disorders, alcohol or drug abuse, smoking, or side effects from medical drugs.
The Active Erection System includes the following parts:
1 pump head
1 transparent penis cylinder
2 inner cylinder rings
1 loading cone
4 constriction rings in different sizes
1 tube of lubricant
1 instructions for use
1 discreet carrying case
The Active Vacuum Erection System is:
SPONTANEOUS - works in less than 3 minutes
PREDICTABLE - consistent rigidity and duration for up to 30 minutes.
SAFE - virtually no side effects or contraindications for long-term use.
FREQUENT - can be used daily or multiple times daily if desired.
Benefits of this system!
Battery-operated vacuum erection systems are very useful and enable the user to pump with just one hand as there is no manual hand pump to have to operate. It is therefore ideal for men with dexterity problems or those who prefer the less fiddly option. Battery vacuum erection systems vary a lot. The price can range from normally £200 to £300. The benefit of this system is that it is affordable. This is very important especially since you may only need a system for a short time or you may find that an expensive one is not suitable for you. I work directly with a high-quality manufacturer in developing this medically certified system so that it will work very effectively for you, but at a fraction of the cost so that you will not be disappointed.
Before you waste your money on inferior products ask yourself:
1 Does it have a good quality pump with a pressure release valve?
2 Does it have a large cylinder?
3 Does it come with a selection of various sized rings?
4 Can it adapt to smaller penises?
5 Does it have a carry case?
6 Does it provide clear instructions?
Our system does all of the above!
You will see from our feedback that we have many very happy customers (and their partners!)